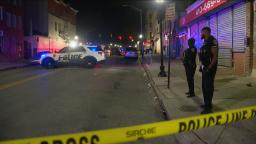 CNN
—

At least one person was killed and three others, including a 2-year-old child, were injured in a shooting in Baltimore Saturday, police said.
Authorities responded near the intersection of Pennsylvania and Lawrence Avenues. Two adult males, an adult female and a 2-year-old child were found shot to death just after 6 p.m. according to Baltimore Police Chief Michael Harrison.
Police believe one or more gunmen opened fire, but don't know if they targeted people in the vehicle or on the sidewalk.
One of the adult males was pronounced dead at an area hospital, according to Baltimore police. The adult female and one adult male are in critical condition and the two-year-old child is in stable condition.
Another 6-year-old was injured in a car crash near the crash site, police said.
At a news conference Saturday night, Baltimore Mayor Brandon Scott made an impassioned plea for community members to come forward with any information.
"We're talking about someone dying, a woman being shot, a child being shot, another child being injured, another person being shot what to do?"
"Whoever did this tonight is a coward," he said. "There are no ifs, and or buts about that."
"We need to stand up and get better for ourselves. We have to get better and stop treating each other the way other people have treated us in this country for years," Scott added.