After one of the bloodiest months in the West Bank and East Jerusalem in years, the US will "continue to oppose" anything that makes a two-state solution "out of reach", the US secretary of state said.
Anthony Blinken said the United States opposes Israel's settlement expansion and any move to annex the West Bank.
The U.S. secretary of state was speaking at a news conference in Jerusalem on the second day of a two-day visit to Israel in which he met with the country's leader, Benjamin Netanyahu, and Palestinian President Mahmoud Abbas.
His comments came days after two shootings in Jerusalem, one by a Palestinian gunman and the other by a Palestinian teenager, killed seven people and injured five others.
Meanwhile, some 35 Palestinians were killed in the fighting, including 10 in an Israeli military raid on the hotspot town of Jenin last Thursday.
Mr Blinken said today: "The horrific terrorist attack in Jerusalem, and the escalating violence in the West Bank, underscore the significant challenges to the security and stability of the region and ours.
"The rising tide of violence has claimed the lives of many innocent people on both sides… All sides must take steps to prevent further escalation of violence and restore calm."
He continued: "President Biden firmly believes that the only way to achieve (peace) is to preserve and fulfill the vision of two peoples.
"The United States will continue to oppose anything that makes that goal out of reach.
"We've made it clear that this includes settlement expansion, legalization of outposts, demolition and
Expulsion, destruction of the historic place of holy sites and, of course, incitement and acquiescence to violence. "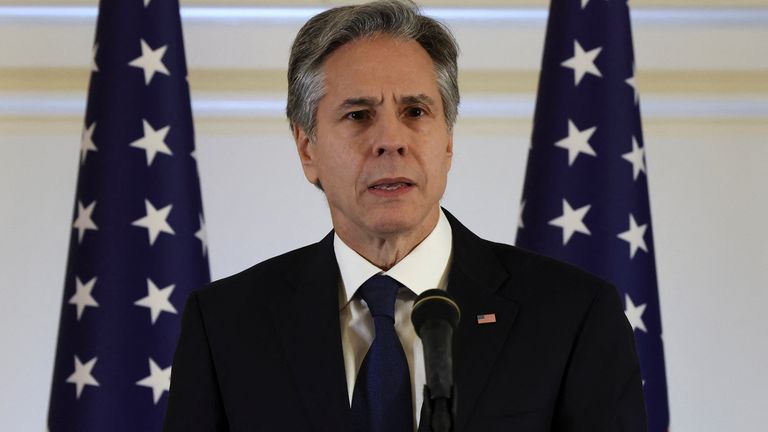 Mr Blinken also said he had heard "deep concern about the current trajectory" during his talks in Israel and the occupied West Bank.
However, he also said he had heard specific ideas from both sides that, if implemented, would help defuse the current situation.
Mr. Blinken's first visit since Mr. Netanyahu's return to power this month under one of the most right-wing governments in Israel's history comes at a time of extreme tension between the two sides.
He said Palestinians were facing "diminishing hope" of the need for change.
Furious at the nearly daily attacks by Israeli forces in the West Bank, Abbas' Palestinian Authority (PA) last week suspended its security cooperation agreement with Israel following its biggest incursion in years.
During the operation, Israeli forces advanced deep into a refugee camp in the northern city of Jenin, sparking a gun battle that left 10 Palestinians dead.
In January alone, 35 Palestinians were killed in clashes with Israeli forces, the bloodiest month since 2015, while attacks by Israeli settlers on Palestinian properties have also increased, officials say.
A Palestinian gunman killed seven people on Friday outside a synagogue in the East Jerusalem settlement.
The next morning, a 13-year-old Palestinian boy shot and wounded two Israelis elsewhere in East Jerusalem.
"The Israeli government bears responsibility for what happened today because its actions undermine the two-state solution and violate signed agreements," Mr Abbas said during Mr Blinken's visit.
Mr Netanyahu has ramped up troops in the West Bank and promised steps to strengthen settlements there, but has so far refrained from more extreme measures.
On Tuesday, Mr Blinken met with Israeli Defense Minister Yoav Grant to discuss cooperation to prevent Iran from developing nuclear weapons and the situation in the West Bank.
Hopes for a two-state solution, with a Palestinian state largely in the West Bank, have all but died down since the last round of US-sponsored talks stalled in 2014.
The Biden administration said it would reopen the consulate for Palestinians that was closed by former President Donald Trump, but has not said when or where it will open.