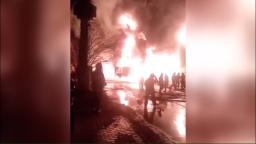 CNN
—

A fire broke out at an oil refinery in northwestern Iran on Saturday, the semi-official Fars news agency reported.
The refinery is near the city of Tabriz in East Azerbaijan province.
"Firefighting continues and the size and intensity of the fire make it difficult to extinguish," Fars reported.
The cause of the accident is under investigation, Fars added.
"Currently, 25 fire engines are fighting the fire at the scene," Fars quoted Mohammad Bakr Hanbal, director general of crisis management of East Azerbaijan province, as saying.
"So far, one firefighter has been injured by smoke inhalation in this incident and is in a stable condition," Fars quoted Hanbar as saying.