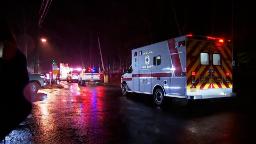 CNN
—

A plane crashed in New York Thursday night due to a mechanical failure, killing two people, including one who reached out to a loved one in his final moments, officials said.
Pilot Boruch Taub and passenger Binyamin "Ben" Chafetz were both killed after their plane took off from JFK and crashed near Westchester Airport, north of New York City, while attempting an emergency landing.
A single-engine Beechcraft bound for Cuyahoga County Airport near Cleveland, Ohio, malfunctioned after takeoff, with the pilot reporting to air traffic control that the plane had "dead cylinders" and was losing oil pressure.
"The pilot realized he had only a few minutes to try and land the plane safely — and he couldn't do that," Westchester County Executive George Latimer said at a news conference.
As the plane struggled in the air, Chaffetz texted his family, offering love and asking for their prayers, CNN affiliate WEWS in Ohio reported. Latimer said Chaffetz communicated with his wife during the final minutes of the flight, saying "goodbye" to her.
According to Latimer, Taub and Chafetz were members of an Orthodox Jewish community in Ohio. Rabbi Nissim Abrin of Bais Avrohom told WEWS that he has been comforting their community amid the tragic loss.
"I think the messages really reflect what's at the top of his heart, which is his love for his family," Ablin said.
"We lost two of our best — amazing husbands, fathers, friends, people, pillars of our community who would drop what they were doing anytime to help others," he said.
Before the crash, the pilot and air traffic controllers had a quick communication about problems on the plane, according to audio of the incident on LiveATC.net.
"We're going to declare an emergency. We're losing oil pressure," pilot Taub told air traffic controllers.
When the controller asked Taub if he had engine power, the pilot said, "No, the engine is overriding."
After a few moments, Taub said, "Mayday, mayday, mayday," signaling a distress call.
When the controller tried to give Taub instructions to help him land safely on the runway at Westchester Airport, the pilot asked for more instructions. "I couldn't see anything up there," Taub said.
The controller continued to guide the pilot to the cleared runway. Then at some point the controller said the radar contact was lost and the pilot stopped responding.
Officials later found the plane crashed about a mile from Westchester Airport, based on initial findings from the Federal Aviation Administration.
The body was sent to Ohio for burial after proper examination, Latimer said.
The FAA and National Transportation Safety Board are investigating the accident.