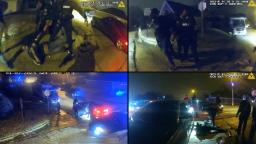 Footage of Memphis police officer viciously beating Tire Nichols reveals culture of violence in the department's SCORPION unit – Nichols' family's legal team insists it be cancelled – Civil rights attorney Ben Crump was permanently dismissed hours after the team Let us know later.
"We think it's part of the culture of the SCORPION force. So we're asking them to disband immediately before we see something like this happen again," Crump told Pamela Brown on Saturday.
However, this critical step is not enough, Crump continued.
"I think we need to know if there are patterns and practices of excessive force. I know the Justice Department's Civil Rights Division is investigating the killing of Tire Nichols. But we hope we can expand the patterns and practices (investigations) because many citizens not only question SCORPION department, and question the Memphis Police Department and its bias against black people," he said. "It's important to investigate, and … before Tire Nichols' death came to national attention, someone reached out and their complaints weren't heard. It's worrying."
Crump added there would be "more ramifications" if the nation absorbed the shocking video of Nichols' fatal encounter with police.
"Whether this leads to criminal charges, we'll have to wait and see, but we do think there are other officers out there who should be prosecuted, not just these five officers," Crump said, noting new video showing officers in Nicolas Walk around Erles as he lies on the ground.
"How heartbreaking is it when he's handcuffed to the ground moaning and everyone is walking around like it's business as usual?" Crump asked, "That's why we say the SCORPION force has to go. "