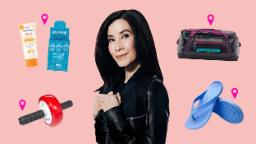 If you're in need of Valentine's Day gift ideas that won't break the bank, we've rounded up some of our favorite under-$25 items that are sure to put a smile on anyone's face. Need more ideas? Check out our favorite Valentine's Day gifts for him, gifts for her, and practical gifts.
Socks are a great little gift, but if you overemphasize the holiday theme, socks can go from being a useful gift to a "just a few days a year" gift. These socks have a tiny heart detail, making them perfect for Valentine's Day without screaming "It's a Valentine's Day gift" when you wear them in August.
Available in silver, gold or rose gold, these pretty little stacking rings feature one of 12 birthstones of your choice, making a pretty, personalized gift that looks like it costs more than it really is.
Pajamas are a classic in gift giving. We love this two-piece pajama set, which looks a lot more expensive than its $25 list price.
For the fashionista in your life, this knitted bucket hat will be the perfect accessory to any outfit this winter.
Showcasing birthday flowers for any month of your choice, this gold square necklace is perfect for a partner or parent. Plus, with nine different chains to choose from, you can really create the perfect personalized gift.
Everyone could use another pair of comfy socks, and these socks from beloved brand Ugg will be loved by anyone.
This adjustable clamp attaches directly to your tray table, allowing you to enjoy downloaded movies throughout the flight without holding your phone. Check out more of our favorite comfort flying products.
A good night's sleep is priceless, and luckily, our favorite sleep mask is only $10, so getting the deep, restorative sleep you've been craving is more achievable than you might think.
Breakfast in bed has never been so cute! Treat your loved ones to a good morning with this adorable heart-shaped waffle maker from Dash.
This polyester satin pillowcase has a super smooth finish like a silk pillowcase, but at a much lower price and helps reduce hair and skin irritation. Check out our full guide to the best silk pillowcases here.
It's all fun and games until someone falls in love with this set of conversation prompts designed to spark intimate conversations. The questions are weighted so it can be played as a scored, competitive game, or the cards can simply be used to facilitate discussion.
Everything you need to prepare avocados—from slicing to pitting—in one compact, dishwasher-safe tool. This is a favorite of Underscored readers.
This thrilling game from the makers of Exploding Kittens is a pinball-like game where you bounce balls at each other for hours.
This petite leather cord lock is as functional as it is charming. Make a gift truly unique by embossing it with the recipient's name or initials.
This neon LOVE sign goes far beyond its price tag. LED neon wall art is powered by batteries (not included) or USB charging and can be stood upright on a hard surface or mounted on a wall.
For those obsessed with grilling or creme brulee, this handheld butane torch is an easy way to up their cooking game.
Make sure your adventurer can drink clean water wherever they go with this personal filter. Read our review here.
Inside this adorable table decoration is a special liquid that crystallizes and responds to varying air pressure, so you can help predict the weather.
Baking enthusiasts will be happy to ditch the tin foil in favor of these nonstick silicone baking mats that are oven, dishwasher, and freezer safe and add a professional touch to the home kitchen.
Indulge your gift recipient with a sweet tooth with this adorable mini ice cream maker. Stirred up a pint at a time, it's the perfect way to add some extra sweetness to their next movie night. Check out more of our favorite ice cream makers here.
Hot honey makes a great gift any time of year, but especially on Valentine's Day! What better way to tell your "honey" that you think they're "hot stuff" and "bee's knees" than Bushwick Kitchen's Bee's Knees Spicy Honey? ! ?
This simple yet useful gift will find a permanent place on your recipient's desk. Features Yeti's double wall insulation to keep coffee hot all day.
These gorgeous wine glasses feature all 12 astrological signs, so you can find one that matches everyone on your list.
For popcorn lovers, this popcorn maker allows you to simply fill a bowl with kernels, let it cook in the microwave, and start snacking in minutes. Even better: the bowl is collapsible.
If there is someone in your life who wants to reduce single-use plastic waste, these Stasher bags are the perfect gift. They'll never need another Ziploc bag because these high-quality silicone bags can be frozen, microwaved, tossed in the oven, and even dishwasher safe. We have used them ourselves and will never use plastic bags again.
Add some gourmet spice to their lives with this delicious truffle vinaigrette. One of our favorite brands, Truff also offers pasta sauces, mayonnaise, and more.
Baseball fans will love this custom tumbler featuring maps of famous baseball stadiums like Fenway, Dodger Stadium, Yankee Stadium, and more.
These hydrating masks are the perfect addition to your next at-home spa day. With natural ingredients like Tea Tree, Shea Butter, Aloe Vera, it's time to pamper yourself.
Don't you think their showers should be like spas? We tried the Goshi washcloths, which revolutionized our shower experience, with exfoliating weaves that slough away dead skin and left us feeling silky smooth.
Whether it's treating puffiness or headaches and migraines, this ice roller from Esarora is an inexpensive but effective beauty must-have and an all-time Underscored editor's favorite.
There's a fun twist to gifting fragrance: the fragrance lover in your life will love these scented body patches. Each set of eight patches includes four different scents, so you can mix and match them to suit your mood.