Editor's note: This article contains gory videos and descriptions of violence.


CNN
—

Video released by Memphis shows Tire Nichols screaming for his mother near the end of the black man's deadly confrontation with police this month as Memphis police repeatedly beat him — including while his hands were tied hit him in the face.
Although paramedics arrived minutes after police left, Nichols appeared to be left on the sidewalk without assistance on multiple occasions before an ambulance arrived.
The city released body camera and surveillance video Friday night of the Jan. 7 traffic stop and assault that left the 29-year-old man dead in hospital from his injury three days later. The release comes a day after five Memphis police officers, who are also black, were charged with murder and have been fired.
The video drew shocked reactions from law enforcement experts and outrage from officials, including President Joe Biden, who said it was "yet another painful reminder of the daily struggles that black and brown people in America experience." Deep fear and trauma, pain and exhaustion."
LIVE UPDATES: Memphis releases video of Tire Nichols arrest
Protesters in Memphis took to Interstate 55 Friday night after the video was released, blocking two lanes of a highway bridge connecting the western Tennessee city to Arkansas.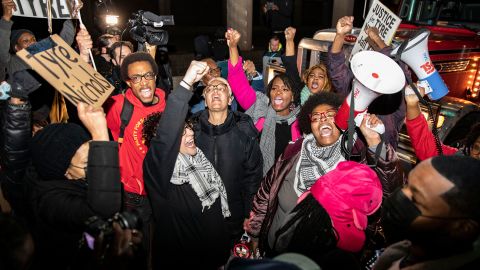 The basics of what happened to Nichols went like this: Police pulled Nichols over in Memphis for what they initially said was suspicion of reckless driving. After police pulled him from the car, a fight ensued and he fled; minutes later, officers would catch up to him, punching and kicking him numerous times, the video shows.
Highlights from the video include:
During the first encounter after the traffic stop, around 8:24 p.m., bodycam video from an officer who arrived at the scene showed Nichols sounding calm.
One officer was yelling at Nichols to "get the fuck out of the car" as officers approached the scene.
Officers pulled Nichols out of the car, and someone said, "Get the fuck on the floor, turn his ass around." Nichols responded, "I didn't do anything", "Well, I on the ground."
The officers yelled at him to lie down and threatened to taser him. One officer told him, "Bitch put your (hands) behind your back before I break them."
Nichols can be heard telling them, "You've done a lot of stuff right now. … I just want to go home. I'm on the ground!"
At 8:25 p.m., a police officer sprayed Nichols in the face with pepper spray. Nichols then struggled to his feet and began running away from the officer as another man fired a Taser at him but apparently missed contact.
A struggle ensues. Nichols got up and ran, with the police chasing him.
A different body camera video shows what happened a few minutes later, around 8:34 p.m., when police apprehended Nichols on a nearby street
Nichols screamed for his mum when video showed an officer arriving at the scene.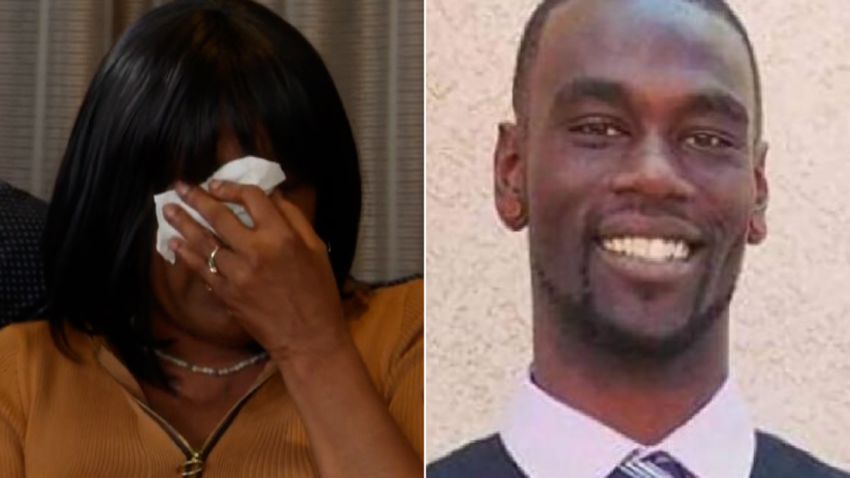 VIDEO: Lawyer Shares Nichols Called His Mom 3 Times
Police told Nichols to "give them his hand" as a struggle broke out on the ground. An officer asked Nichols, "Do you want to get sprayed again?"
Two officers punched and kicked Nichols as he fell to the ground.
Nichols screamed, "Moo moo moo!" and continued calling for his mom for a while.
An officer was eventually heard yelling at Nichols: "I'm going to fucking beat you up. Give me your fucking hand."
Remotely operated pole-mounted police surveillance video Nearby gives the clearest view of the strike. It suggested police beat Nichols at least nine times without apparent provocation.
When the camera first pans to the scene, an officer shoves Nichols hard onto the pavement with his knee or leg. Nichols was pulled up by his shoulder and kicked twice.
After being pulled up to sit down, Nichols was hit in the back with a baton. After being pulled to his knees, Nichols was hit again.
Once pulled up, the video shows officers punching Nichols in the face multiple times while his hands were bound behind his body before he fell to his knees. Less than a minute later, an officer appeared to kick Nichols. More than three minutes after the encounter first appeared on camera, officers let go of Nichols, who rolled over.
A minute later, Nichols was dragged onto the sidewalk, sat leaning against the side of a car, and was largely ignored by officers for the next three and a half minutes.
In a body camera video, officers can be heard talking about the encounter.
"He was waving — bang — and almost hit me," one officer said. "Then he reached for the (inaudible) gun," the second officer said.
One officer said Nichols "had his hand on my gun" and "fucking with it."
One officer later described the traffic stop involving Nichols: "We tried to make him stop. He didn't stop."
"He swerved and almost hit my car," one officer said.
Van Jones, a former special adviser to US President Barack Obama, told CNN after seeing the video: "(Nichols') voice went from calm (in the initial encounter) to panic … to panic. pain."
"It was clearly excessive force," said the former New York City police lieutenant. Darrin Pocher told CNN. "What's even more troubling is that no officer was willing to intervene and say 'stop.'"
Ten minutes after the pole camera video began — minutes after the police disengaged — Nichols was first approached by what appeared to be a paramedic at around 8:41 p.m. Rescuers would repeatedly walk away from Nichols before arriving.
Two minutes after paramedics began attending to Nichols, he was seen lying on his side, his head appearing to hit a piece of equipment hard after a bright light shone on his face. Nichols tried to sit up, but no one seemed to help him, and he fell again.
After about a minute, officers surrounded Nichols, only to walk away when he fell again.
First responders then spent nearly five minutes standing by Nichols, occasionally shining a light in his face, before walking away.
Read stepfather's description of video: 'No one offered him help'
Nichols writhed on the ground, helpless. Pole camera video showed the medical equipment was finally brought back to Nichols about three minutes later.
Footage shows 21 minutes elapsed between the first appearance of paramedics and the ambulance finally appearing on camera at 9.02pm
Two Shelby County Sheriff's Office deputies were suspended Friday pending an investigation after viewing the videos.
"I am concerned for the two deputies who showed up on the scene after the police and Tire Nichols got into a physical altercation," said Sergeant Floyd Bonner Jr. Say.
"I have opened an internal investigation into the conduct of these representatives to determine what happened and whether any policies were violated. Both representatives have been removed pending the outcome of the administrative investigation."
Earlier, fire department spokeswoman Qwanesha Ward told CNN's Nadia Romero that two fire department employees involved in Nichols' "initial patient care" were placed on leave "while an internal investigation is conducted."
The Justice Department said it was conducting a federal civil rights investigation into Nichols' death.
Earlier Friday, the Memphis police chief said the video would show "acts against humanity."
Sheriff Cerelyn "CJ" Davis told CNN's Don Lemon before the video was released that police were unable to find any evidence to establish possible reasons for Nichols' reckless driving before the fatal encounter.
"It's still like a nightmare," Nichols' mother Rovaughn Wells told CNN on Friday before the video was released.
"I'm still trying to make sense of all of this and trying to wrap my head around it all," Wells said. "I don't have my kids. I'm never going to have my kids again."
Police officials in several major cities across the country said they were monitoring a possible public outcry this weekend over what was seen in the video footage.
Police across the country have been scrutinizing how they treat black people, especially since the May 2020 murder of George Floyd by Minneapolis police officers and the massive protest movement known as Black Lives Matter .
Before the video was made public, Wells asked supporters to be peaceful during the demonstration, saying at a vigil in Memphis on Thursday that she hoped "every one of you will be able to protest peacefully."
"I don't want us to burn down our cities and tear up our streets because that's not what my son stands for," Wells said. "If you are here for me and Thiel, then you will protest peacefully."
A church in Memphis is scheduled to hold Nichols' funeral on Wednesday.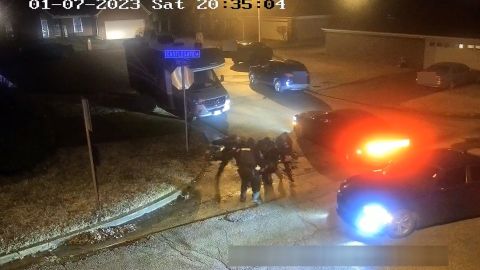 Five Memphis police officers identified — Tadarius Bean, Demetrius Haley, Justin Smith, Emmett Martin and Desmond Mills Jr. – He was fired on Jan. 20 for violating police policy, including the use of excessive force, police said.
They were then indicted this week. Each is charged with second-degree murder, aggravated battery, two counts of aggravated kidnapping, two counts of misconduct in public office and one count of oppression in public office, Shelby County District Attorney Mulroy said.
Martin and Haley were released on $350,000 bond, while Smith, Bean and Little Mills were released, according to Shelby County Jail records. They were released on bonds of $250,000 each.
The five former military officers are scheduled to be arraigned on February 17.
Mills Jr.'s attorney, Blake Ballin, said he did not believe his client was "competent" to bring the charges and that his client was "involved" in Nichols' death. Feel "remorseful".
Bahrain told CNN he has not seen the video but has spoken to people who have. He urged those viewing the video to "take these officials as individuals".
"These five officers have varying levels of culpability, and I hope you'll see in this video that my client, Desmond Mills, didn't actually commit the crimes he's accused of," Baring said.